Mya 0 Va, Hmong village There were battles in Dawei and Myeng Farm, and 17 people were killed on the side of the military council
Source: yktnews.com : 2022-11-24 12:15:58 :

Yangon, November 24
Karen State Mya Ota Township, Sagaing Division Monywa Township, Every Sunday Dawei City and Mandalay Region Fighting broke out in Mying Farm Township, and the military council's side was killed.
Karen State On the evening of November 22, a drone bomb attacked the Khmer (102) military unit camped near the village of Blado on the Myawati-Walley road under the control of the KNU 6th Brigade, killing 8 members of the military council. Federal Wings reported that about 15 people, including battalion commander Major Zaw Myo Aung, were seriously injured.
The attack was led by Cobra Column, KNDO Battalion (8) troops. The attack was carried out by the Ronnie drone force and the Federal Wings drone force, and the Federal Wings force used 37 bombs in 12 flying attacks, according to the Federal Wings group.
Sagaing Division Aera 71 people defense force Monywa told the Yangon New Age news agency that on November 23 at 5:14 p.m., a 90-mm long-range weapon was fired three times at the camp site of the violent fascist councilors and Pyu saw soldiers stationed in Topu village of Monywa district.
In addition, at 9:37 p.m. on November 23, the group fired 20 rounds of long-range 90-mm weapons into Topu Village, and the revolutionary soldiers were able to retreat without harm.
On November 22nd at 4:00 p.m., between Maung Mae Xiao village and Zahar village on the Dawei-Re car road in Tanintharyi, military council soldiers who came to clear landmines were attacked by landmines and 6 people were killed, DGRF reported.
About 30 military council soldiers who came to clear the mines were shot by 2 60mm guns. It was attacked with 3 mines and about 6 military council soldiers who were sitting on top of the mine were blown away. 3 of them fell to the ground and 5 emergency vehicles came to pick them up. According to the subsequent investigation, about 6 people died and about 12 people were injured.
In addition, in Maung Maengxiao Village area, at about 12:00 in the afternoon on November 17th, when the terrorist military council column and Dawei (Pakaf) DGRF soldiers exchanged fire for 8 minutes, two (2) revolutionary soldiers were wounded by stab wounds. DGRF soldiers attacked the terrorist military council troops with 40 mm small arms and mines again, killing 3 military council soldiers. It was learned that 4 people were seriously injured.
Mandalay Division On the night of November 22nd, 8 people were injured when two terrorist war council cars were attacked by a mine on the Meykhap-Mandalay road.
Photo: Civil Defense Forces.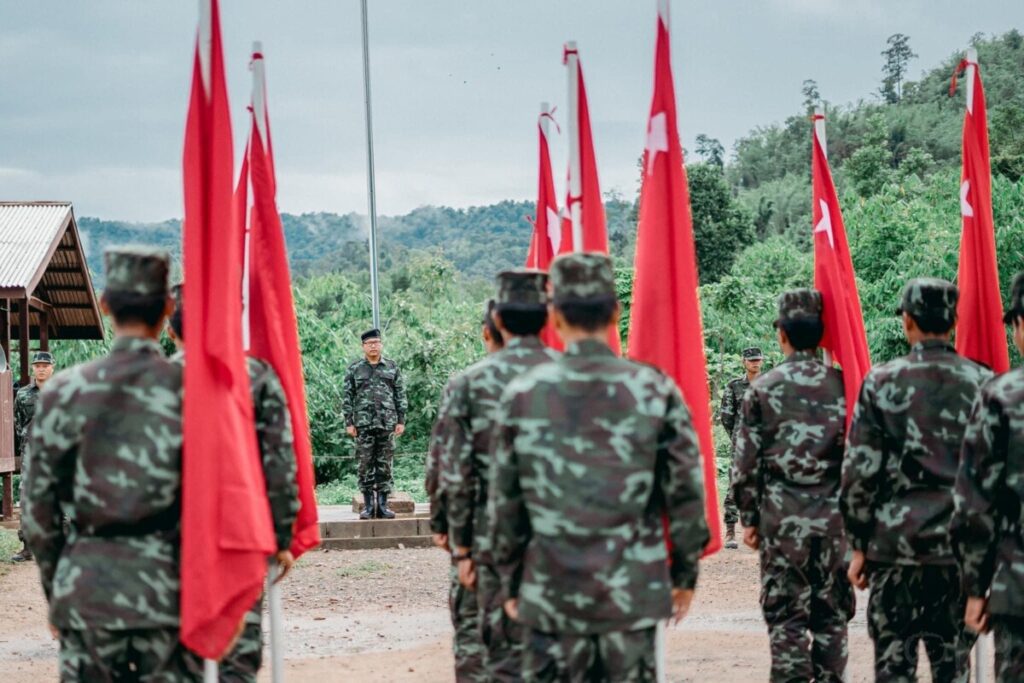 Read the original article on Here!