1 motorcycle in Pakukku Ordered that only 1 person should ride
Source: voiceofmyanmarnews.com : 2022-11-24 14:50:05 :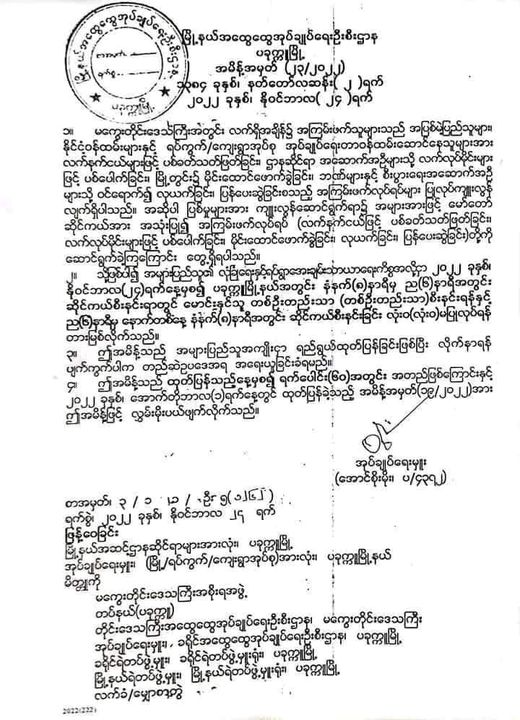 November 24 2022
SP (VOM)
every time Pakokku District Pakukku residents have reported that starting from yesterday, November 24th, the Township General Administration Department has issued an order that only 1 person can ride 1 motorcycle.
"We have announced the time for motorcycle riding in Pakokku city. That is from 8 am to 6 pm. From 6:00 p.m. to 8:00 a.m. the next day, it is specified that you cannot ride a motorcycle at all. In addition to that, when you have the right to ride a motorcycle, only 1 person can ride 1 motorcycle. whether men or women 2 women are not allowed to ride together, An order has been issued," said a Pakukku resident.
"Pakukku is a district town. It is a city that depends on the villages near the city to sell goods. The issuance of the order not to ride a motorcycle with 2 people is a school drop-off. "It's true that it makes it difficult for those who have to do the pre-delivery night market," said an entrepreneur in Pakukku Industrial Zone.
A person close to the office of Pakukku Township General Administration Department regarding the issuance of the order not to ride 2-person motorcycles.
"Robbery in Pakokku city. robberies When kidnapping cases and murders occur, the perpetrators usually commit the crime by 2 people on a motorcycle. In the case of Ward No. 14's administrator who was shot and killed a few days ago, the perpetrators were 2 women and 1 motorcycle. Promulgating the order not to ride two-person motorcycles is a preventive measure to prevent crimes from happening in the region," he said.
The past few days, on November 22, around 7:00 a.m., Pakokku City, Ward No. 14. U Myint Thein, a former district administrator, was killed when 2 women came on 1 motorcycle and shot him.
#voiceofmyanmar #VOM #Pakokku
Read the original article on Here!