Due to continuous rain and damage to the road, the Maha Myain road is impassable
Source: voiceofmyanmarnews.com : 2022-10-03 12:43:53 :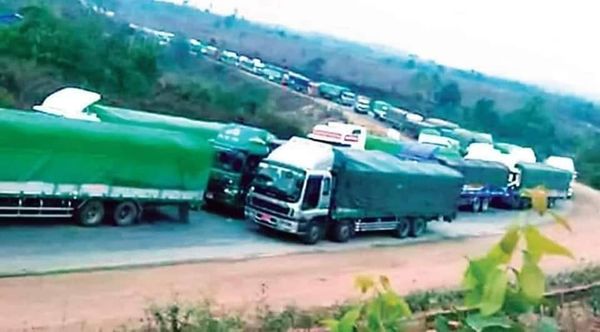 October 3, 2022
SP(VOM)
Sagaing Division Children's District Minking Township, The Monywa-Kalaywa-Tamu road near Pyugaing village is impassable due to water erosion and damaged roads, so hundreds of trucks and passenger cars are stuck, according to freight operators.
"The rain that fell on the night of the 1st of this month washed away all the sand creeks and eroded the concrete road." Some cars are also stuck in those sand dunes. There are long rows of swamps between the forest and the bee branch. The sandbanks between Byu Kaing and Aung Chhai are also flooded. Hundreds of trucks and passenger cars have been stuck in many places in Maha Myain for 2 days. The rain hasn't stopped yet," said a truck driver from Monywa-Kalyawa-Tamu.
Regarding the closure of the Maha Myain road, a Monywa-based freight forwarder said, "Every time the Maha Myain road is broken during the rain, we mainly operate on the Monywa-Pulay-Ganggo-Kalay road section." Ganggo-Kalye highway will not allow big vehicles to pass this year. In the middle of the road, mines are broken, and there are big pits and valleys. That's why they don't go anywhere, For this year, I am doing my best on Maha Myin Road. "Now, the roads on Maha Myaing Road are broken, so the train lines are temporarily stopped," he said.
That Maha Myain road section is Monywa-Tant Se-Kalewwa-Tamu and Monywa Molaid. It is said that it is carrying food and green goods every day on the Phormpyun-Humlin-Khanti road.
In addition, last September 19th, concrete roads were damaged by water erosion and roadblocks occurred in Maha Myaing Road. In addition to that, the road was closed for 4 days because the clearing teams were entering the area, according to motorists.
If that Mahamyain highway is closed, the prices of rain goods in Monywa-Mandalay will often increase, and the price of rain products in Monywa-Mandalay will increase. child Molly, bloated According to the local traders, they want to repair the Maha Myain road as soon as possible due to the rising price of food and kitchen products in cities such as Hommlin.
#voiceofmyanmarv#VOM #Mining City
Read the original article on Here!