In the battle of Matara, 13 soldiers were killed, including those killed by the army's heavy artillery. Military vehicles were hit by landmines in Tagong and Sondong, 3 killed. Minking Myanma Commercial Bank was bombed
Source: yktnews.com : 2022-09-12 11:36:00 :

Yangon, September 12
Mandalay Division There was a battle in Matara township, and 13 soldiers were killed, including the death of the soldiers of the military council, when the ammunition fired by the army returned fire. PDF coalition forces reported that 15 soldiers were wounded.
On September 12th at 9:00 a.m., Matara Township Shinhla. Aye Kyung The military council forces and the PDF alliance forces started fighting from the villages of Reu Kyun. Half an hour later, after the exchange of fire, the 15th PDF battalion (Tiger King) fired 12 times with a long-range weapon. After half an hour of firing and attack, the people's heroes were able to retreat unharmed.
The 2 large weapons fired by the army fell back near the army and caused a lot of damage. A total of 13 people died as a result of the joint attack by the PDF forces. 15 soldiers were injured.
The Military Council Army was joined by the 15th Battalion (Tiger King) of Shwebo District, the Sky Revolution Force, Matara, Shwebo District Battalion 17 (Peacock Army), Shwebo District Battalion 18 The Irrawaddy Brotherhood Matara Group GZ Special Task Force; The Downey Group Army Battalion (2) Company (1) Shwe Bo District Battalion 2 G Fatt's group and the local civil defense forces joined forces to attack.
Similarly, on September 11th at 12:30 in the afternoon, Mandalay Division, The Tagong People's Defense Force said that 2 soldiers were killed when 6 landmines ambushed 2 small military vehicles leaving from Tagong township in Thabangjin Township near the entrance to the village of Sinlikon Village. A comrade from News and Information spoke to the Yangon New Age news agency.
In addition, Sagaing Locals reported that bombs exploded at the military-owned Myanmar Commercial Bank in Minking town at 5:00 am today.
"I heard an explosion early in the morning. After investigating, I found out that there was an explosion at Myanmar Commercial Bank. As for the damage, I saw that some items inside the office buildings were damaged. No one was hurt," said a Minking resident.
PDF Minking Battalion 2 reveals that they attacked Myanmar Commercial Bank with 2 landmines.
Similarly, Mandalay Mithila District Soondung Township, At 9:00 a.m. today, the WTRF exterminated Pyu Saw Htay Min Htay, a member of the military council from Te Su Village. After that, at 9:00 a.m. near Nat Nang village, WTRF again detonated the military vehicle that was picking up the body of Pyu Saw Htay Min Htay, and WTRF reported that there may have been casualties.
Photo: A military vehicle hit by a mine in Karenni State. (old picture)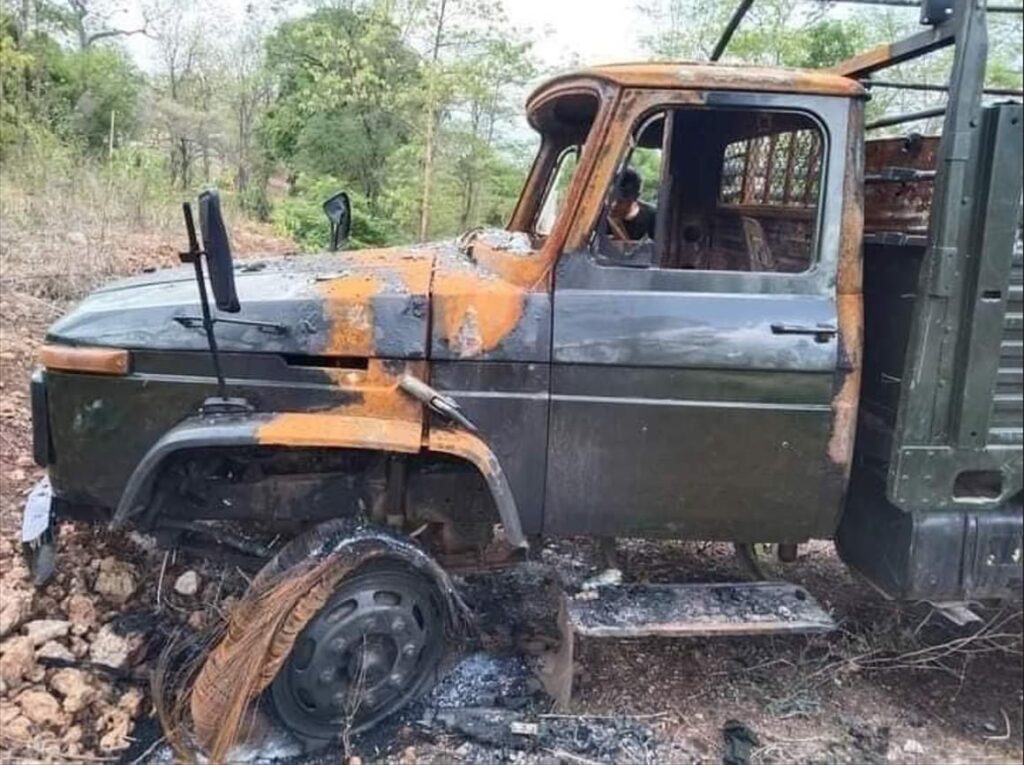 Read the original article on Here!