A shoe factory in Bago burned and lost more than 500,000,000. The Chinese national responsible is under investigation
Source: voiceofmyanmarnews.com : 2022-09-11 14:35:45 :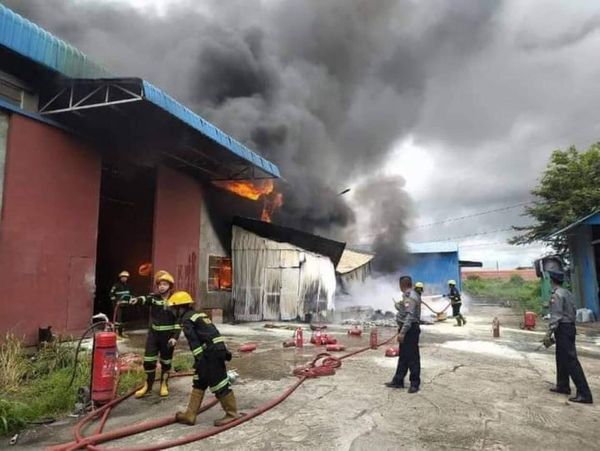 September 11-2022
VOM (GG)
Bago City Ustha City New (9) Ward, It is reported that a fire broke out at the Chinese-owned Melody Global shoe factory in the foreign industrial zone, Nyaungin Industrial Zone, on the morning of September 11, and more than 500,000 yen was lost.
"The fire broke out at around 10:00 a.m. At 11:00 a.m. the embers broke. At 11:00 a.m. the fire was extinguished. The value of the loss is more than 500,000 and 400,000. A local philanthropist said that the factory manager was charged with fire negligence.
Currently, the Chinese man who is in charge of the factory fire is being investigated under Section 285 of the Penal Code.
The fire was caused by overheating of the boiler in Melody Global's shoe sole distilling plant and a short circuit in the wire.
That fire was extinguished by the troops of the regional fire department. The township fire brigade has 8 fire engines. It is reported that the fire was put out jointly with 1 administrative vehicle.
#voiceofmyanmar #VOM #Pagoo #Shoe factory fire
Read the original article on Here!