DaDong duck ready for New York opening
Source: www.chinadaily.com.cn : 2022-06-14 06:44:40 :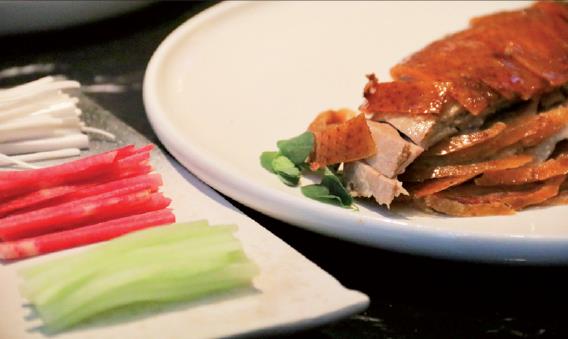 To acclaimed chef Dong Zhenxiang, it"s all about the texture of the duck.
Dong, the founder, chef and owner of the celebrated DaDong chain in China, is getting ready to open an outpost in New York on Monday.
He wants to make sure the Peking duck served in Manhattan is as authentic as that in his 11 restaurants in China.
"The most important thing is to find and develop a type of bird as similar as possible to the birds we use in China," said Dong, who started the restaurant in Beijing in 1985. It now has nine outlets in the capital and two in Shanghai.
"The birds we use are very special – the skins are thin, and the meat is less fatty so that we can have the combination of the crispiest skin with succulent meat."
For that, he went to the American heartland.
Dong said he spent two years working with Maple Leaf Farms in Milford, Indiana to develop the specialized birds and a special kind of oven to cook at 600 degrees Fahrenheit.
In China, they use wood-fired ovens, but the fire code doesn't permit that at the Midtown location on 42nd Street at Bryant Park.
The three-story, 12,932-square-foot restaurant in The Cube Building, designed by George Wong Design, features a 3,785-sq-ft outdoor garden on the second floor and an 858-sq-ft outdoor terrace on the third floor. The entire venue can handle more than 400 guests.
When reservations were opened in October, 2,500 people tried to book a table within two hours. Prime dining times already are booked through the end of February.
DaDong's specialty, Subuni (crispy, not greasy) roast duck, will sell for $98, and half a duck will fetch $58, but the customers are not only paying to enjoy the food, they also will experience DaDong's "artistic conception of Chinese cuisine", also known as yijing cuisine, which sets DaDong apart from other Peking roast duck restaurants.
Yijing cuisine features an exquisite Chinese cultural interpretation to culinary creations – each dish is incorporated with the elements of artworks such as Chinese poetry, literature, painting and bonsai grooming.
DaDong New York also mirrors the interior decor of DaDong in Beijing, which adopts modern techniques to show the mood of Chinese ink and wash painting.
Dong said the restaurants' interiors were inspired by China's Suzhou Museum, which was designed by I. M. Pei.
The poems of Tao Yuanming (365-427 AD) are presented to reflect ancient Chinese literati and officialdom, considered a noble pursuit.
"I hope our New York customers could have a modern but classical dining experience at our restaurant," Dong said. "And we are lucky to be able to bring in five chefs from China to New York."
For the New York menu, 80 dishes have been chosen from DaDong's more than 200 dishes in China. In certain dishes, there might be a few slight changes to cater to New Yorkers' taste. The restaurant will also serve five different brands of baijiu, including the famous Maotai and Lu Zhou Lao Jiao.
"The traditional Chinese Beijing food is what DaDong represents; hopefully, we will educate the New York clientele to understand it with a New York-style service to help them enjoy the traditional Chinese food as well as enjoy the environment in New York," said Andy Xu, the executive chef of DaDong New York branch, who has worked for such esteemed New York kitchens as Cru.
Contact the writers at ruinanzhang@chinadailyusa.com
Read the original article on Here!